TRANSGLOBAL ENVIRONMENTAL AND ENGINEERING LIMITED (TGEEL) is a fully indigenous engineering, environmental, construction and servicing company, operating in the Oil and Gas industry in Nigeria. Incorporated in November 2008 as a Limited Liability Company, TGEEL provides Engineering services in the following areas:
– Oil and Gas Pipeline and Flow line Construction (Land and Swamp).
– Civil, Building and Structural Engineering Work.
– Oil spill cleanup, Remediation and Rehabilitation of Impacted sites.
– Maintenance of Oil and Gas Pipe work and Facilities.
– Mechanical, Electrical and Instrumentation work/Fabrication
Our exploits in these specialized areas bear testimony to our capabilities, having provided quality based services at international standards to our clients. Many of the projects executed includes: steel fabrication, civil construction, installation, Environmental Impact Assessment on Oil Spill and remediation to mention but a few. These projects were executed with both foreign and local professionals in the oil and gas industry.
Over the years, we have invested in the development of in-house expertise and material resources in order to position ourselves as the service company of first choice and ensuring that we meet the requirements of our clients at all times. This we are doing with a team of professional engineers with vast experiences in the oil and gas industry.
As a company, we are committed to the Nigerian project and to enhancing Nigerian content in our projects.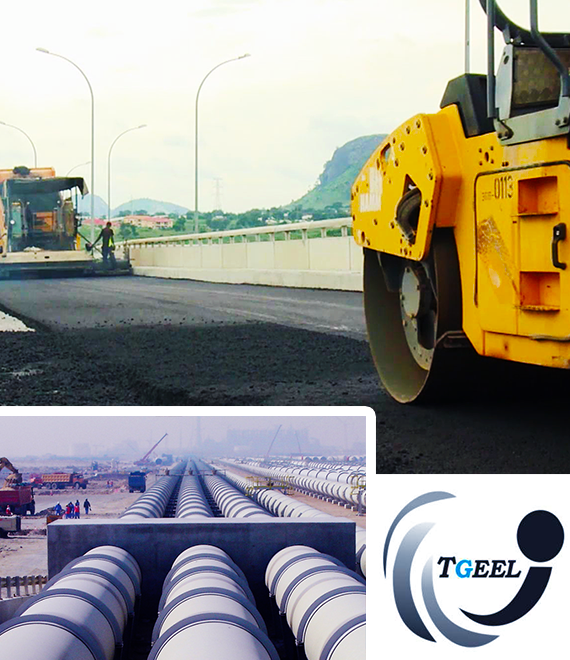 At TGEEL, we apply knowledge, determination and skill to create a more interconnected, livable world—a society that connects us not only to our clients, but to each other.
We relentlessly pursue solutions today to address tomorrow's infrastructure and environmental challenges. Solving problems and enhancing functionality—this is what excites us. Our passion for the built and natural environment is surpassed only by our desire to make an impact—to improve, support, develop, implement and build—in order to meet societal needs. We strive for excellence in everything we do.
What our customers are saying about us

Ada Okoli
Industrial Engineer and CEO
TGEEL was completely respectful of the building and its surroundings – they immediately became part of our team and they know teamwork! They kept the jobsite clean and safe; working with TGEEL is nothing short of a first class experience!

Nosa Efosa
Industrial Engineer and CEO
Thank you for all of your hard work on our project…I seriously don't know how you did it but it came together SO WELL. I know we are a particular bunch and want things a certain way but you guys did such an amazing job!

Vincent Eze
Site Engineer
…our complete satisfaction with the service provided by TGEEL team. The team has proven themselves as experienced professionals with superior results! We are impressed with the quality of work and their ability to meet our aggressive timeframe.

TGEEL was truly a collaborative partner; working with us in a cost effective, efficient and quality construction product. The knowledge of the TGEEL team was truly a value add to the overall success of our build-out project. On time, on budget and we had fun!